Even though women today nearly mirror their male counterparts on every level in the workforce, women still earn just 80 cents for every dollar earned by men. A new report from Wells Fargo Securities' Economics Departments looks in depth at the reasons behind the wage gap and why millennial women are now sloping downward from equal pay.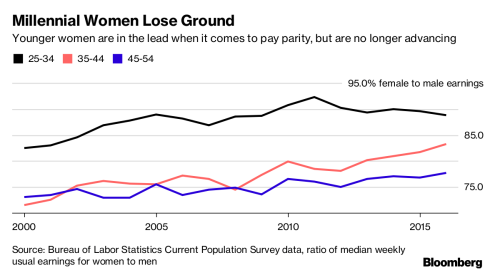 Over the past 15 years women have seen a stall in progress on the wage gap front. As of 2016, it was at the widest it's been in the past seven years. According to Diane Schumaker-Krieg, Global Head of Research, Economics, & Strategy for Wells Fargo Securities, the reason behind this stall and the reason women are going to continue to see earning disparities in the future, can be chocked up mainly to the way that society views caregiving and men.
There has been a drop in equal pay for millennial women in particular due to their age. Typically between age 25 and 34 is when women become first time mothers. With an increase in responsibility and costs, many women find themselves either becoming part time in the workforce or dropping out completely to be a stay-at-home mom.
Businesses understand this trend which is one reason for the slope in wage equality. They would rather pay more to a male counterpart for the same work because it's assumed that men will be able to continue to give the business the time and attention they require.
By paying women less, it only gives them an incentive to leave the workforce. It usually ends up being the financially sound choice to cut costs on childcare.
"Women can't do it [caregiving] on their own. They need supportive husbands who can contribute to the child care, and [unfortunately,] Corporate America has not made it easy for men to help their spouses" says Schumaker-Krieg in an interview with Bloomberg.
Until we can change the stigma around men becoming a primary caregiver and the unwritten rule that salary should depend on working long and inflexible hours, women will continue to be paid less and forced out of the workforce.
Here are some additional highlights from the report:
If women were not out-achieving men educationally, there would be a 6% higher wage gap than there currently is.
Childcare costs have grown more than twice as fast as median household incomes. This has been a main reason behind so many woman leaving the workforce and becoming a stay-at-home mom.
14% of the wage gap can be explained by less work experience. The time that women spend out of the workforce while being a primary caregiver, slows down their accumulation of job-specific skills which employers naturally pay a premium for.
Men earn more in nearly every occupation despite sharing the same skills or education as women in the same position.
As women move into male-dominated fields, research shows the work in that field, and therefore the earnings, get devalued.
38% of the wage gap remains unexplained. This may be due to discrimination or implicit/unconscious biases.
These statistics prove the struggle for women to get equal pay for equal work, but the question remains, what could happen when we finally close the wage gap?
Closing the wage gap could lead to an increase in female labor force participation, support real household incomes or a secondary source of income that could lead to a boost in more disposable spending money, and potentially support the economic mobility of future generations by providing more financial resources so those children can climb the economic ladder later in life.
Businesses can also benefit from closing the wage gap as well. Equal pay could attract more women back to the workforce, help businesses retain the women they already have lowering associated costs, build a stronger and more diverse company culture, boost individual and company performance increasing the bottom line through higher sales and profits, and potentially better meet the needs of half of the U.S. consumer base.
With so few reasons not to close the wage gap, it's compelling to still see nearly 80 years after women began joining the workforce, that as a country we are still struggling to support such a vital part of our community.
To read the full report in detail, click here.